Hop Heads Beer Club
Hoppy Beers Hopping to your Door Every Month
Here's the situation: you love your IPA beers and you've got a craving for something cool, refreshing and hoppy. You're kind of bored of the same old same old and want to shake things up a bit with something new. Your friends fridges are filled with malty stouts and sweet hefeweizens and a quick Google search just leads you to hundreds of different IPA beer brands putting out all kinds of aggressively hoppy brews with catchy names.
Great. The paradox of choice, right?
Wait, hold on now – don't give up yet. Before you reach for that lager, read on.
This kind of issue is exactly the one that the beer lovers over at Microbrewed Beer of the Month Club try to solve with their IPA beer of the month club, Hop-Heads Beer Club. Offering a variety of different hoppy brews each month, from classic IPAs to Session IPA to IPLs, they seem like a great option for those looking for new, flavorful and aromatic beers to discover.
To find out if this ipa beer of the month club will quench your thirst for discovery, or if it just falls flat, we decided to put them (and our taste buds) to the test.
What is the Hop-Heads Beer Club
Launched in 2016, the Hop-Heads Beer Club was created by The Microbrewed Beer of the Month Club to help IPA-lovers find and enjoy new, high-quality hoppy beers every month.
Putting their extensive beer knowledge and experience to the task – their team includes a judge at the Great American Beer Festival and a former head of brewing operations for BJ Brewhouse – their ipa of the month club curates and sends out a variety of hoppy, craft beers from US based microbreweries and international brewers for you to try out.
Great. How much does it cost?
All prices are current as of writing and are in USD.
Hop Head Club charges $34.95 for the beer and extras, plus another $15 shipping.
Are the drinks worth picking up the tab?
If you like your beer hoppy, and if you're reading this we know you do, then we think Hop-Heads Beer Club is good value for money.
Pricewise, because you get 12 full sized bottles or cans of beer in each shipment, it works out to about $4.16 per beer (with shipping).
Let's consider the selection in one of their shipments where we found:
4 x Slippery Slope: Double IPA by Southern Barrel Brewing Company
4 x River Horse IPA by River Horse Brewing Company
4 x Iroquois Pale Ale by the Adirondack Brewery
As you can see, these aren't really mass market beers you can pick up for $20/24 pack. These are small-batch and imported craft IPAs and, generally speaking, they are more expensive.
Now you may find these craft beers sold online or in-store for around $2.50-3..50 per beer. But once you factor in shipping and minimum orders (or the time/expense of getting it yourself if you like in person shopping), you'll quickly find that $4.16 price not to be not too far off…or even cheaper.
But price alone isn't why you subscribe to these monthly beer clubs, it's the convenience. These packages are expertly curated selections of high quality craft IPAs that are sent to your door every month to help you broaden your beer palate (and stock your fridge) without any effort or time on your part.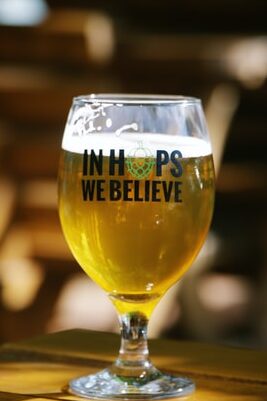 One thing we didn't like is that there is a minimum of two shipments you have to sign up for, so if you want to dip your toe into the whole IPA discovery game there's a slightly higher commitment.
We would also have liked to see a price break for longer subscriptions as an incentive.
That said, we do like that the subscriptions don't auto-renew by default, so you can drink easy knowing that you won't have to manually cancel your account to prevent being billed again.
How does it work
Overall, signing up for Hop-Heads Beer Club is pretty easy and highly flexible.
To start with you can pick how many shipments you would like, from 2-12, or just pick an ongoing subscription if you're not sure.
The company also gives you the option to choose when to start getting your beers, you can choose to start getting your packages about four months after signing up. This is a nice touch if you're going on vacation or simply want to clear out some room in your fridge first.
You can also choose the frequency of delivery, whether you want to get beers every month, every other month or every four months. This can be very helpful as it lets you tailor your subscription frequency to your actual beer consumption – there's less risk of beers piling up in your garage this way.
One thing we really appreciated is that, unlike some other subscription boxes, The Microbrewed Beer of the Month Club lets you choose between prepaying for all your boxes up front or paying as they ship. Sure, it might not be such a big deal for 2 or 3 boxes, but once you get up to a 12 box $600 bill you may appreciate being able to split up the payments over time.
Finally, Hop Head backs their subscriptions with a 100% satisfaction guarantee. If you're unhappy with your purchase, they will replace or refund your purchase.
If you want to cancel you can do so anytime, which is nice, by contacting them through email, chat, a toll-free phone number or by filling out an online form.
What do I get in each box?
Each month, subscribers receive 12 bottles or cans of hoppy beer straight to their doors.
Now, it's important to note that Hop Head Club isn't just an ipa beer of the month club. Their emphasis is on hoppy flavor and quality, so while you can expect IPAs, double IPAs, Session IPAs and the like, you may also receive selections of Imperial Pale Lagers, as well as Pale and Red Ales. Basically, if it's hoppy, flavorful and aromatic, they'll consider putting in the box.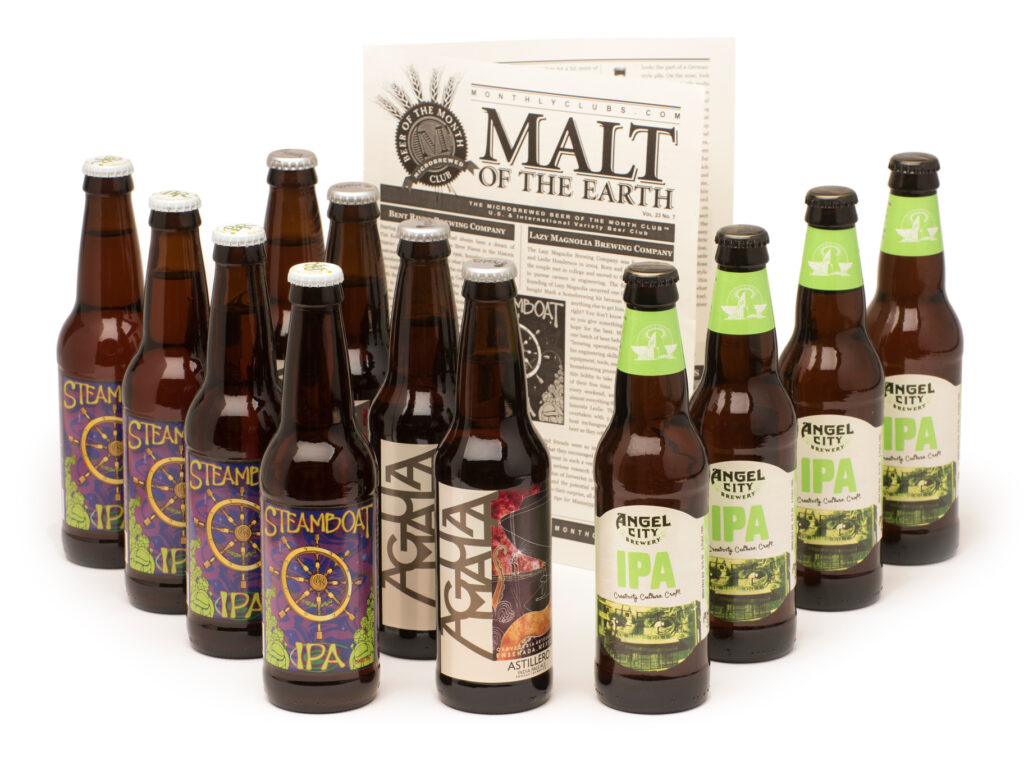 If you like your frosty ones deliciously bitter, we think this will give you a good sense of the variety of beer options out there.
You should note that Hop-Heads Beer Club tends to source their beer selection from craft breweries (such Peak Organic Brewing and Lazy Magnolia) from the US and from international brewers. If you're looking for exclusive beers or one off runs to show off to your friends this isn't for you. These are commercially available full runs.
That said, you won't be getting beers you can pick up at the local gas station or walmart either, to be sure these are high quality and more premium beers.
Each box contains three different beer selections, so you get four bottles or cans each kind to try out every month. We think that's pretty cool because it balances variety with quantity – if you really like a particular beer you'll have more than one bottle to enjoy it again or to share with friends. You can also reorder any recent favorites online, if you haven't got your fill.
You'll also get a newsletter, Malt of the Earth, which contains some information about the beers and their brewing houses, suggestions about what food to pair it with and even flavor notes to look for if you're into it. It's a pretty nice addition and we found it to be a real help and think that it can even help casual beer enthusiasts get the full tasting experience from every brew.
Finally, if you sign up for a three month subscription (or longer), they'll throw in a free bartenders bottle opener. While not a huge incentive on its own, we thought it was a nice extra. Never hurts to have another bottle opener, after all.
How and When Does it Ship?
Generally speaking, you should get your beer towards the end of the month. Because it is an alcohol product, there will need to be someone of age (21) to sign for it although you can contact them to reschedule deliveries if necessary.
The beers come in nondescript but sturdy cardboard box and are well-packed with protective cardboard beer-shippers (kind of look like big egg crates) and, we think, should survive most of the jostles and bumps that occur while en route.
You should note due to alcohol restrictions and relevant laws there are several states that they do no ship to – Alabama, Alaska, Delaware, Hawaii, Kentucky, Mississippi, Nebraska and Utah. So if you're from there and you want some hoppy brew, you're out of luck.
For many of the same reasons international shipping isn't available, so your pen pal will have to get their own beer.
Giftability
You can (and we would argue, should) easily give Hop-Heads Beer Club as a gift to the hops-loving friends in your life.
At checkout, you can simply click a button and make your purchase a gift. You can then schedule a gift announcement for them to receive via email at any date of your choosing. So if you want it to be a surprise you can schedule the announcement to arrive after the package. If, however, your friend is suspicious of random alcohol arriving in the mail, you can have the message sent beforehand.
Alternatively, if you want a somewhat more personal touch, the company offers a PDF announcement you can print out and sign yourself.
In Summary
If you really like hoppy, flavorful beers and are looking to discover new tastes and flavors we strongly recommend giving Hop-Heads Beer Club a try. With a highly flexible subscription rate and a good variety and quantity of high quality craft beers in each box we think it is one of the better IPA beer of the month clubs (and more) for your money.
FAQ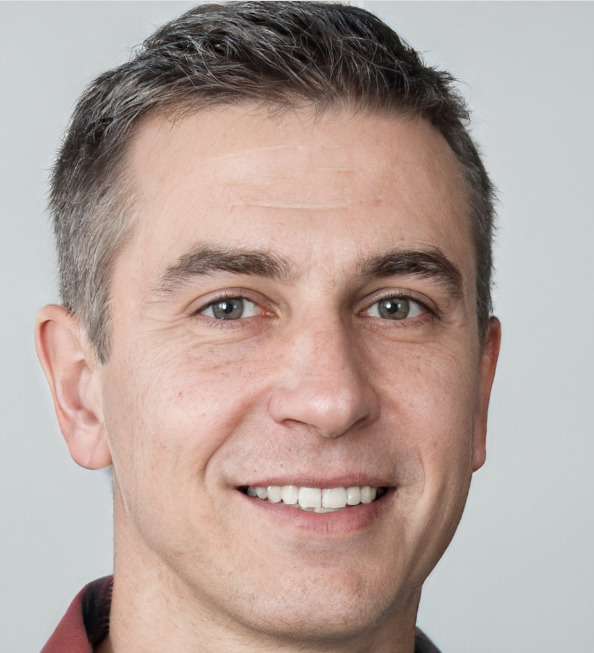 Greg Fowler – From Ginza Marys to Bloody Aztecs to cool Kriek lambics, Greg has served it all working first as a bartender and then as part of a craft beer company. Our go to guy for all things alcohol, when he's not on the clock he's usually working on his next batch of home brewed lager.