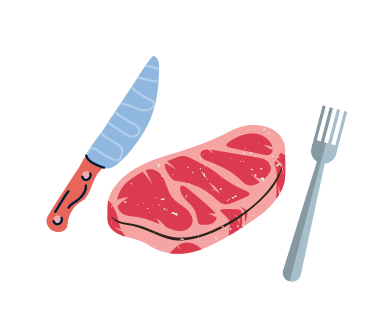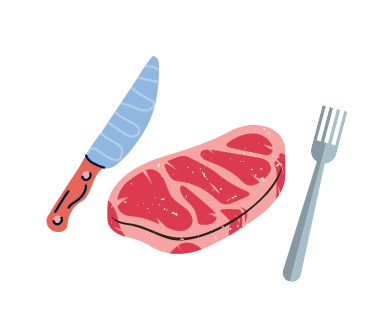 Butcher Box Review
Sustainable high-quality meat to your door
What is Butcher Box
Founded in 2015, Butcher Box is a monthly meat subscription service that delivers high quality meats to customers' doors. Working with a group of family farms and cooperatives, the company aims to make humanely-sourced, premium and sustainable meats available to more people.
To do that, it sources 100% grass-fed and grass-finished beef, organic free-range chicken and heritage breed pork products and builds a variety of meat subscription boxes around an assortment of choice cuts.
How much is Butcher Box?
All prices are current as of writing and are in USD.
Butcher box has a variety of boxes you can choose from and two sizes – a classic box and a big box.
When picking a meat subscription box, it's more about how much control you would prefer to have.
Curated Boxes
If you want you can just pick what meats you want sent to you (all beef, beef & chicken, beef & pork or a mix of all three) and let the company take it from there. Regardless of the meat you pick, the amount of meat and prices are all the same and come in two box sizes, Classic and Big.
| | | |
| --- | --- | --- |
| | Classic Box | Big Box |
| Price | $129 | $238 |
| Amount of Meat (lbs) | 8-11 lbs | 16-22 lbs |
| Shipping | FREE | FREE |
In addition to the box, you can choose to receive some more meats as add ons for a fee. To give you an idea, when we ordered the options were:
Wild Alaskan Sockeye Salmon (4 lbs) – $25
Bacon (10 oz pack) – $7
Ground beef (2 lbs) – $15
Breakfast sausage (1 lb) – $9
Custom Box
If you would like a little more control over what meats you get you can opt to choose a custom meat subscription box.
Essentially you can pick what cuts of meat you want to get in each box choosing between a nice selection of beef, chicken, pork and seafood (we'll talk more about this later). Like the more curated subscription boxes, the custom boxes come in two sizes, Classic and Big, although they allow for a little more meat per box (up to 6 cuts for Classic boxes, 12 cuts for Big boxes).
| | | |
| --- | --- | --- |
| | Classic Box | Big Box |
| Price | $149 | $270 |
| Amount of Meat (lbs) | 9-14 lbs (up to 6 cuts) | 18-26 lbs (up to 12 cuts) |
| Shipping | FREE | FREE |
And, just like the curated boxes, you can get some meat add ons as well (for a price). As an example, we saw:
Wild Alaskan Sockeye Salmon (4 lbs) – $25
Bacon (10 oz pack) – $7
Ground beef (2 lbs) – $15
Breakfast sausage (1 lb) – $9
Is Butcher Box a good deal?
Ultimately, we think that if you're looking for a good choice of premium quality, humanely raised and sustainable meat delivered to your door then yes, we think Butcher Box is definitely worth the money.
If you're looking for inexpensive meat options and you don't mind conventionally raised farming, you should probably look elsewhere.
Let's face it, if you want grass-fed, organic and sustainably raised meat, it's going to be more expensive than factory farmed. The meat you get from Butcher Box is usually higher quality, from pasture raised cattle, organic chickens and heritage hogs (Duroc, Berkshire, Chester Whites, etc.) and are more like what you might find at a farmers market than your local supermarket.
Pricewise, Butcher Box meats will probably run around $10-12 or so per pound, which is far more than conventionally raised meats
Generally speaking, however, that's not far off from what you might find for similar types of meat. For example, grass-finished organic beef (depending on cut) can cost over $8/lb, pasture raised organic pork averages can range from $8-15/lb.
And that's before shipping those meats to your door, which brings us to why you would want to subscribe to a subscription meat box in the first place – convenience.
For the price, Butcher Box will deliver handpicked humanely raised and high quality meats to your door every month, cut, packaged and ready to use. There's no need to go out looking for grass-fed beef or high quality pork, Butcher Box saves you the time and effort.
Unfortunately, like other subscription boxes, Butcher Box automatically renews, so you'll have to contact the company to cancel your subscription or they'll keep sending you boxes and billing you for them.
How does Butcher Box work?
Butcher Box is pretty straightforward. Sign up for the subscription, and once you complete payment, that day is your billing date. Every subsequent month on that day your credit card will be billed.
A couple days after your card is charged your package should ship to you.
If you don't want to continue your subscription, you log in to your account and click Stop Subscription under Box Settings. Because it is a recurring subscription, you have to do so before your usual billing date or they will charge your card and send you a box.
Overall, we think Butcher Box tends to offer a lot of flexibility and choice in its monthly meat boxes.
When setting up their meat subscription box, Butcher Box gives the option for customers to select company-curated boxes or a custom box where they have a greater hand in selecting their monthly meat delivery.
Curated Boxes
To begin with, even with curated boxes, you can choose what kind of meat mix you want. Depending on what you select you'll receive a box of that meat in various cuts.
All beef – a box containing only cuts of beef
Chicken and beef – a box containing a mixture of chicken and beef cuts
Beef and Pork – a box containing a mixture of beef and heritage pork
Mixed Box – a box containing a mixture of beef, pork and chicken cuts
The idea here is that while you can select which meats you want, you let the company pick out various cuts of meat to receive every month.
For example, one month you may get strip steaks, burgers, bone-in pork butt, pork sausage and ranch steaks and another you may get a sirloin cap, ribeyes, steak tips, bacon, pork chops and pork roast.
While you sacrifice a little bit of control over your meat selection, this option tends to give you more help if you're not a meat expert, with their hand picked monthly selections letting you discover and try various cuts of choice meats and can save you a lot of time in dinner planning.
There are two box sizes to choose from, which differ only in how much meat you'll receive. The classic box will contain anywhere from 8-11 lbs of meat, and the Large will send you 16-22 lbs of meat. The idea is that you can select a box based on how much meat you think you might want or need (or can afford) per month.
You can also then select to receive add ons in your monthly box. When we used the service they were offering a selection of salmon, bacon, ground beef and breakfast sausage.
We felt these could be a nice little addition to a box, although keep in mind you do have to pay for them.
There is also some flexibility when it comes to subscription frequency. You can choose how often you want to receive your boxes, either every 4, 6 or 8 weeks.
You can also request a delay on your box up to a month in case you need more time to finish your last order.
Custom Boxes
If, on the other hand, you like a little more control when it comes to your meat you might want to try their custom boxes.
The Custom Box option allows customers a great deal of freedom to pick several cuts of meat. You can fill your box with selections of:
The only limitation is in the number of cuts, which relate to the box size you choose. If you take the Classic Box you can pick 6 cuts of the above meats, in any combination, and if you pick the more expensive Large box you can pick 12 cuts.
The company also lets you change these selections each month from your account so you can really start mixing it up with your boxes.
Now, we found the Custom Box option quite interesting as it's simply not something you find in many subscription boxes. Generally speaking, subscription boxes are highly curated, meaning you rely on the company to pick things out for you and they don't typically accept substitutions or requests.
With Butcher Box's Custom Box option, that's the whole point.
You'll get a lot of freedom and control over your meat subscription box, letting you pick and choose each month the kind of meat and the cuts you prefer.
The downsides are that the boxes are more expensive (accounting for larger amounts of meat) and that the process is more time intensive – you'll have to log in each month and set your order unless you want to get the same meats and cuts over and over again.
Just like the curated box option, you can choose to receive the same add ons meats for a price, choose your delivery schedule (every 4, 6, or 8 weeks) and request a delay on your next box for up to a month.
Curated or Custom: You Decide
Unusually for a subscription box you have the option to customize your order. Now, we're rather picky about our meat and know what we're doing so we prefer the custom boxes even if they are more expensive in terms of time and money.
With 25+ cut possibilities to choose from and the ability to change things up every month, it offers a lot for meat enthusiasts who like a bit of control.
If, on the other hand, you're someone looking to save time or aren't so knowledgeable about meat we would recommend the curated boxes. You may sacrifice control over what meats you get, but it makes up for it in terms of time savings and the convenience of having someone plan out your box.
With all that said, keep in mind the relative value of each box depends largely on the cuts selected for that month box. Although the company does know its stuff, if you choose a curated box the process is (with the exception of choosing beef, pork or chicken boxes) out of your hands.
Some customers have gotten upset in the past if they didn't feel that a particular box did not have enough of the cuts they wanted to justify the box price.
Shipping
Typically, your box will ship a few days to a week after your credit card is charged.
It seems like sending frozen meat out around the US would be a sort of iffy proposition, but Butcher Box does, we think, a pretty good job.
The company ships your meat to you in a pretty sturdy and recyclable cardboard packing (which sort of goes with their sustainable brand – they moved away from styrofoam some time ago). There's a lot of cardboard in it, too, which seems to be to restrict airflow and prevent warming.
The boxes aslo have an insulating pad, an additional temperature control mechanism to prevent thawing.
Although we didn't, past customers report receiving dry ice as well, which the company does occasionally send out depending on the shipment destination.
It seemed to work – our meat was still nice and frozen when we got it with no leaking. All the meat is individually wrapped and protected.
What kind of meat can I expect to receive?
The types of meat you receive varies from month to month. The company works with smaller farms and other carefully selected sustainable farming operations and therefore the meat is subject to availability.
Beef
Butcher Box currently sources its beef from Australia due to the wide availability and careful certification of pasture raised cattle. The beef they use is grass-finished, meaning the cows are fed grass their whole lives (as opposed to being just grass-fed, which refers to their first year of life).
The company typically offers a pretty wide range of beef cuts, including:
Ground beef
Stew
Sirloin
Strip steaks
Steak tips
Ribeyes
Flat iron
Filet mignon
Roast
Ranch steaks
Now, don't come in expecting wagyu or kobe beef. This is grass-finished beef so expect it to be a little leaner than grain fed, with a more complex, meaty taste to it. We found that it cooked up really well, was fairly tender and made an excellent, probably healthier dinner.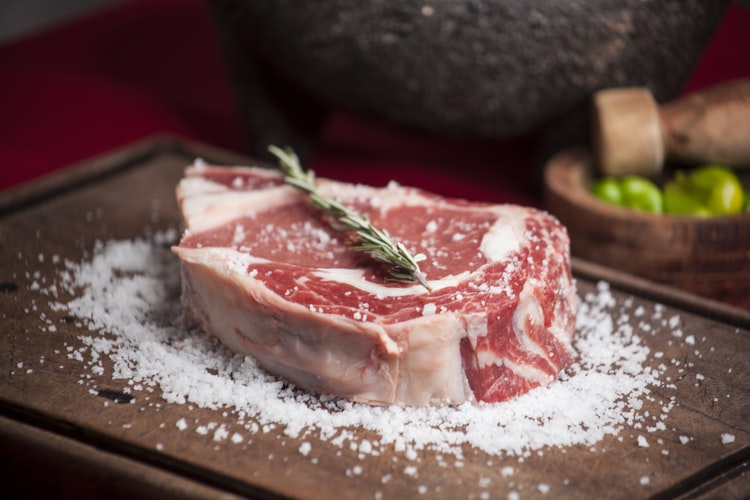 Pork
Butcher Box uses what's called heritage pork, that is pork that comes from particular, respected lineages of pigs (Duroc, Berkshire, and Chester White, for example) that tend to be grown slower and fatter on a higher quality feed and are hormone free.
Butcher Box offers a number of typical and popular pork cuts, including:
Tenderloin
Butt
Ribs
Italian sausage
Roasts
Bacon
While they didn't have anything mind-blowingly unusual (we didn't see any secreto, for example), the cuts of pork we received had a rich taste and a quality marbled texture that ended up producing very tender and intense flavors. They were certainly far more juicy, tender and flavorful than your typical supermarket fare.
Chicken
Butcher Box sources free range, USDA organic/GAP 3 certified chicken with a number of cuts such as:
Drumsticks
Thighs
Chicken Breasts
Even Whole chickens
The chicken was good quality and leaner than commercially raised chicken, but in the end it's chicken – if you've had free range organic chicken then you're probably aware of it's flavor and texture. The beef and pork are really the stars of the show.
Seafood
If you go with the custom box you can also select to receive select seafood offerings. These are wild caught from independent and sustainable fisheries and fishermen.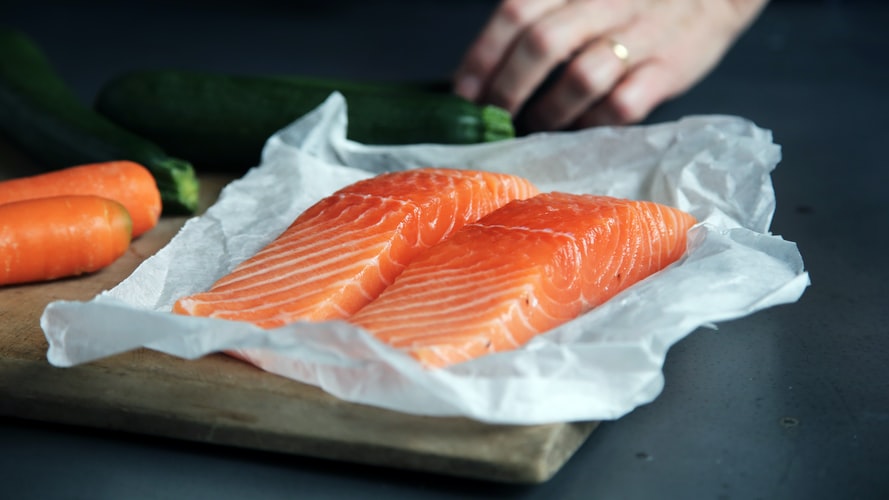 There's not as much variety as the beef and pork but (depending on season and availability) you might be able to choose:
Cod & halibut
Alaskan salmon
Scallops
Lobster
Portions
When you take into consideration the quality of meat, we think you get a fair amount of meat by weight for your money per box:
8-11/16-22 lbs for curated boxes
9-14/18-26 lbs for custom boxes
Butcher Box offers some rough estimates of how many meals its boxes are good for.
| | | |
| --- | --- | --- |
| Box Size | Amount of Meat | Estimated individual meals |
| Classic Size Curated Box | 8-11 lbs of meat | 24 meals per month |
| Classic Size Custom Box | 9-14 lbs of meat | 30 meals per month |
| Big Size Curated Box | 16-22 lbs of meat | 48 meals per month |
| Big Size Custom Box | 18-26 lbs of meat | 60 meals per month |
To understand this a bit more, you have to understand that the company bases its "individual meals" on 6 oz meat portions. Anything cut greater than 6 oz (like a 12 oz steak) is considered multiple portions.
To give you an idea of what you might find portion-wise, here are some examples of cuts you might find in a box:
Ground beef – 2x 1 lbs
2x 10 oz NY strip steaks
3.5 lb whole chicken
2x 12 oz sirloin steak
24 oz sirloin cap
Overall, we tend to load up on meat and found these recommended portions to be on the smaller side – our love of meat meant we averaged fewer meals out of each box than the company estimated. However that's not uncommon with premium meats, especially those from smaller and independent farms- you simply won't find massive 24 oz steaks at this level.
Ultimately, how many meals you get out of each box per month is a very individual thing – it really depends on how much meat you load up on at each dinner.
What do I do if my box comes damaged or spoiled?
As we mentioned earlier, the company's packaging seems robust and had a lot of effort put in to make sure that our meats were kept whole and unspoiled. Overall we were pleased with the delivery quality.
That said, sometimes life happens. If your box does get damaged or if the meat defrosts in transit, you can take a picture and contact the company within 7 days to get a replacement, credit or refund (either partial or full).
The company is relatively small and past customers have reported that support can take some time getting back, although most were fairly pleased with the result.
Bottom Line
With a good variety of organic and premium cuts of meat on offer and the rare ability to customize your boxes each month, Butcher Box makes for a sustainably-minded meat service that also delivers decent value. It's certainly not the cheapest meat delivery option out there, but if you're looking for a meat subscription box that can deliver humanely raised, hormone free and high quality organic meats to your home every month, Butcher Box should be at the top of your list.
FAQ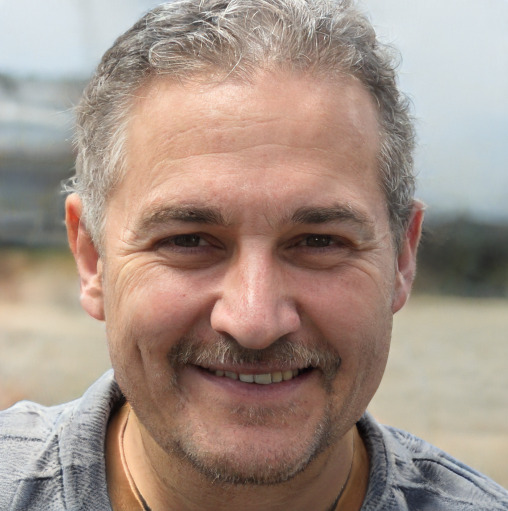 Bill Ross – A pitmaster and smoker enthusiast, Bill served up delicious brisket and ribs for almost 15 years around the great state of Florida before becoming our go-to expert for all things BBQed, smoked and/or marbled. When he's not checking the bark on his brisket, he can usually be found fishing or reading.